Print Ads
Direct Mail
Brochures & Collateral
Logos & Identity
Websites & Interactive
MIscellaneous
Return Home


| | |
| --- | --- |
| | 20 years of agency & freelance experience |
| | Excellent skills in all the major software - print and online |
| | Flexible working arrangements - ongoing or per project basis |
| | Proven record of strong design and campaign results |
| | A positive, hard-working attitude that fuels creative and productive working relationships |
| | Read more... |
Join my Network.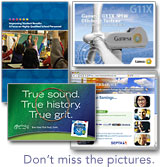 Qualifications:
Advertising & Design: Self-starter and studio manager at four agencies - handling all aspects of a project throughout the agency to maintain a smooth work flow. Strong creative style, excellent computer skills, fast concept sketches, strong HTML skills, staff management, and excellent client relations.
Computer: Extremely skilled in all the major software packages - Photoshop, Illustrator, InDesign, Quark, Dreamweaver, PowerPoint, etc.– what I don't know I am very fast to learn. I have trained staff in all of these programs as well. Also familiar with office software, networks, and computer troubleshooting.
Business Management & Communications: I have handled all aspects of agency operations – marketing proposals, estimating, budget and media planning, project management, and new business presentation. I am a good listener, a problem solver, and a very hard worker.



Employment:


Freelance Art Director :: March '02 – present
Working directly with advertising agency/design studios, as well as corporate clients, to create print and online marketing campaigns. In all projects I rely on my diverse background, creative talent, problem solving skills, strong work ethic, and a network of other artists, writers, photographers, programmers developed from 15 years experience in the advertising business.

Senior Art Director :: [anonymous] productions
Lansdale, PA. November '00 – March '02
Helped bring marketing and creative direction to an established web design agency and to work with their web design team and help grow their print design abilities. Agency worked primarily in web design and online marketing for the interactive game and entertainment industries..

Senior Art Director :: Antoniewicz & Clouser
Yardley, PA. February '95 - November '00
Brought previously freelance-based art department internal with computerization of art department. Manage all aspects of projects within agency, working closely with copywriter and marketing/media departments to satisfy client's needs. Also acted as secondary contact on all accounts. Agency worked primarily in direct mail and print for business-to-business accounts. Clients included Educational Testing Service (ETS), Avery Dennison, ICI Imagedata, Barron's, and IBM.

Senior Art Director :: Beach Advertising
Philadelphia, PA. December '91 – February '95
Established computerization of art department. Managed art staff, freelancers, suppliers, and all creative output of agency. Worked closely with account reps, acting as second contact to many accounts, and managed several accounts of my own. Agency worked primarily in print collateral for social service and tourism accounts. Clients included Philadelphia Convention and Visitors Bureau, Pennsylvania Convention Center, Educational Testing Service (ETS) as well as many of the city's Health & Human Services offices.

Art Director :: Target Marketing & Communications
Bethlehem, PA. July '88 – December '91
Developed in-house art department and was responsible for creative output, as well as, all aspects of project production within the agency. Agency worked primarily in B-to-B with financial and industrial accounts. Clients included Bucks County Bank, Corning, Rodale Press, and United Way.

Marketing Assistant :: Allentown Valve & Fitting Company
Emmaus, PA. June '82 – July '88
Assisted sales manager with technical information, marketing, and sales projects. Computer and design services retained on a per project basis.



Education:


Moravian College :: Bethlehem, PA.
Graduated Evening School December '87 - Business Management major,
Art minor, and a Business Communications certificate degree.
Beaver College :: Glenside, PA
Full-time for three semesters as a Graphic Design major.


I welcome the opportunity to meet with you to present my full portfolio and discuss how I can make your job easier. To reach me, please call 215-429-5210, or email me at design@alexkrail.com.

I look forward to hearing from you.
Alex Krail


NEW 2016 portfolio available!


My NEW portfolio is available and I'd be happy to send it to you - please email me.
Bring something unique to the party?


Sometimes I get requests outside my expertise. If you have a unique talent or service that could be beneficial, please send me your information. If a need comes up I'll be happy to contact you. And please do the same - please send your info now.