Print Ads
Direct Mail
Brochures & Collateral
Logos & Identity
Interactive
MIscellaneous
Return Home

Join my Network.



Clients call me for all sorts of projects - print or online.


Some need print concepts to pitch a client, some have a concept and need it executed, and some just need backup talent to cover a vacation or to help an already overloaded internal design team.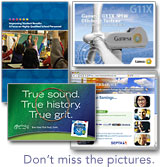 The same goes for websites. Some clients have a design and need it programmed, others need a design and they program it, and still others need the whole enchilada. The convenience of one source for print and online is very helpful to both their timeline, sanity, and budget.

With over 20 years of agency/freelance experience, I have created and produced award-winning print and online marketing as well as direct mail campaigns in the tourism, education, financial, healthcare, pharmaceutical, industrial, and interactive entertainment industries.

I have excellent skills in all of the major software packages, proven staff and project management experience,

I am very fast with creative solutions, have strict attention to detail, balance multiple deadlines very well, and I am an excellent problem solver. I also work with several inhouse design departments and help to fuel creative and highly productive studio environments.

For more details, take a look at my online resume. Or, better yet give me a call. I welcome the opportunity to meet with you to present my full portfolio and discuss how I can make your job easier.

To reach me, please call 215-429-5210, or email me at design@alexkrail.com.

NEW 2016 portfolio available!


My NEW portfolio is available and I'd be happy to send it to you - please email me.